About Us
The Rainbow Club was created in 1981 to promote a spirit of international friendship and provide a support netwowrk for people visiting or moving to Tsukuba from abroad. Since then, we've been able to help many people settle into Tsukuba life, whether it be for a short visit or as long-term residents, offering advice and local knowledge through our acrivities, publications and website.
We have also provided Japanese lessons for family members of overseas students and researchers who do not otherwise have support to language classes. Today, more than 100 people study in our Japanese classes every year, with an overall total of more than 3,000 students. Over 2,000 people have completed the entire one and half year course since we started the classes.
The booklet, Tsukuba City Guide in English and Japanese was first published in 1987 as a survival kit for foreigners, and the third edition was issued in 1994 after some revision. We started providing the content on the internet in 1995. We also provide Essential Vocabulary for Getting You through Pregnancy in six languages (Japanese, Chinese, Korean, English, Spanish and French) on the internet.
The club organizes bazaars so that people moving to Tsukuba are able to pick up essential household items cheaply. Other types of events, held throughout the year, aim to provide an introduction to Japanese culture such as the traditional tea ceremony.
Through these activities, we have generated the international friendship, cross-cultural exchanges, mutual understanding, and harmonious living between people in Tsukuba and those from overseas that we set out to encourage.
Our activities are well-regarded, and over the years we have received awards from the following organizations:
Tsukuba City 1997
Nihon Zenkoukai 1999
Ibaraki Prefecture 2000
Odaira Special Awarpubd 2002
| | | |
| --- | --- | --- |
| Nihon Zenkoukai | Ibaraki Prefecture | Odaira Special Awarpubd |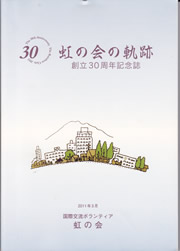 The Rainbow Club celebrated its 30th anniversary in March 2011, publishing a commemorative book, History of the Rainbow Club. During all this time The Rainbow Club has certainly changed in order to stay relevant and keep up with the times. We no longer provide local information, as this is available from Tsukuba City Council, and other sources. Based at the University of Tsukuba, The Rainbow Club runs Japanese Class, private Japanese lessons, and the cultural exchange programs
After the 2011 Great East Japan Earthquake, after holding several fund rainsing events, the Rainbowclub was able to send Japanese textbooks and financial support to two volunteer groups which were working for non-Japanese residents of Kesenuma and Ishinomaki via Miyagi International Association.