Cultural Exchange
To encourage cross-cultural exchange we run the Rainbow Café for students of the Japanese language class, their family members and friends. At the café you can learn about Japanese culture, such as traditional festivals, the tea ceremony and how to wear a kimono. The Rainbow Café also aims to provide a venue for non-native speakers to practice speaking Japanese.
Inviting international students as lecturers, we also hold lecture meetings to promote understanding their cultures.
One day Ikebana Class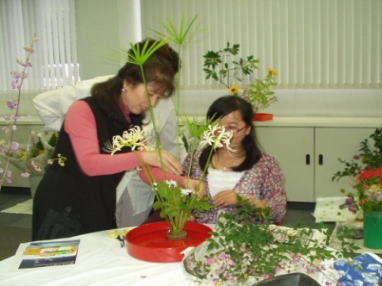 Tea Ceremony Demonstration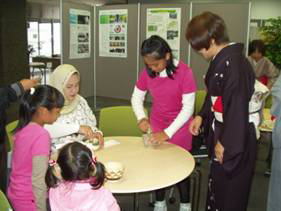 Following the initial establishment of the Rainbow Club, we organized a bazaar for the newly arrived students of Tsukuba University in cooperation with local residents. Since daily commodities are now easily available at flea markets and discount shops such as the 100 yen shops, such bazaars are not being held at the present time.